As the temperature continues to go up and down, please use this as a guide for dressing your child warmly. The elementary dress code is also listed below.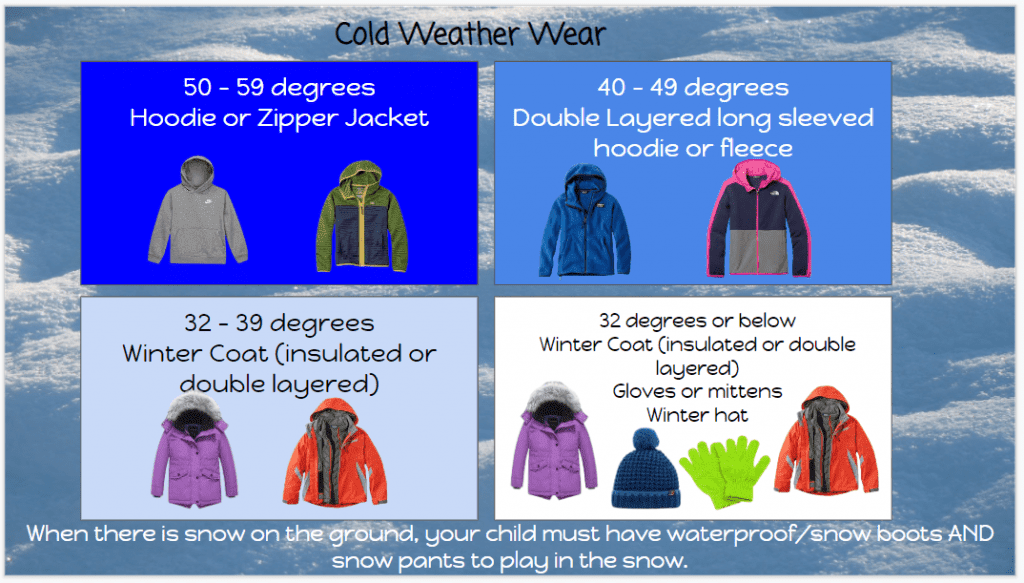 Dearborn Schools Student Dress Code
Elementary
Dearborn Schools District is committed to providing all students with a safe and positive learning environment. Dress code adherence is a reflection on you, your family and the school community at each of our schools. In addition, dress code is fundamental to helping students learn a future employability/social skill, which is required for success in getting and keeping employment linked to appearance. The guidelines below promote student safety and an environment that is conducive to learning.
Pants and shorts must fit at the waist and cover undergarments. Pants must be free of tears, rips, or holes above knee-level.
Shirts must cover undergarments completely. Shirts must also cover the midriff.
Skirts and shorts must be of appropriate length: covering the majority of the thigh.
Clothing displaying offensive or inappropriate pictures or writing, which includes but is not limited to topics of sex, tobacco, alcohol and other drugs, is not permitted.
No sunglasses, hats, or hoods to: Sunglasses, hats & hoodie not be worn inside the school
Safe footwear must be worn at all times. A backstrap is required on shoes. Flip-flops, slip on sandals, and slippers are not permitted.